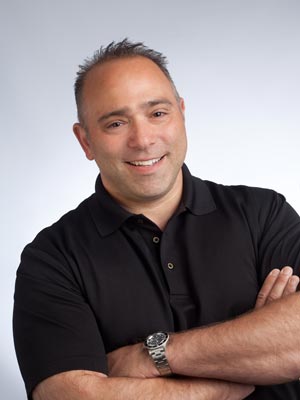 Anthony J. Finazzo III
Chief Executive Officer
East Ridge Printing

Out of high school I was driven and knew to have the things I wanted I would need to work really hard and some day be my own boss. I started in printing working for a small 2 man printing company where I helped customers, operated a printing press, worked in bindery and drove around town delivering finished product to customers. One day while I was out on a delivery, I injured my hand putting me out of commission for several months. My injury prohibited me from going back to my previous job however, I loved what I did so I decided to take a different approach and get into the sales side of printing. I worked for a local company as a print broker for a year but knew my potential was limited working for someone else. In 1995 I decided to start my own business and launched Execuprint from the bedroom of my parents house. In fact, I turned my bed into my desk during the day and shortly after I emptied my dresser and used it for my business supplies.
Armed with business cards, a typewriter and the burning desire to succeed, I hit the road selling printing. With the manufacturing skills I learned from my previous production job and sales skills from being a broker, I was ready to take on the world. The first few years were rough and I quickly realized it was not as easy as I originally thought. Businesses that I was calling on already had vendors they were happy with and didn't want to give me the time of day unless I was cheaper. I knew I had to take a different approach. The cost of paper and materials is fairly similar for companies so it came down to the question "do I want to work for less than I'm worth?" I knew I possessed two characteristics that set me apart from most in my industry, my compassion for people and the desire to truly help them succeed. With this, I decided to add more value by positioning myself as not only the guy who can take care of your printing but the printing expert you can count on unconditionally to fight the battle with you, pick up the pieces you drop and that will do what it takes to help make you successful. While I realized this approach would not be for every prospect, I knew there were a select group of people who would see the value in what I could offer beyond product cost and their current relationships. After all what is a cheap price worth if you need to devote more of your valuable time, sacrifice quality or miss a deadline to get it?
Within 6 months I was fortunate to have landed one of my biggest clients generating over $600k in highly profitable sales. Within the next two years, I was able to establish several more clients securing over a million dollars in business. Not bad from starting in the bedroom of my parents house, but as an entrepreneur I wanted to build upon my success.
In 2000 I launched the Verite Agency, a marketing group with a primary focus on strategy, branding and print collateral development for small to mid-size businesses. And in 2005 I purchased East Ridge Printing. My goal was to buy a business that already had a good reputation with an existing client base so I could start producing the work internally that I would typically outsource. In addition, I could take this new business, employ my business philosophy and grow it.
Today East Ridge Printing is recognized nationally for the efficiency, reliability and level of perfection we dedicate to each and every one of our clients. From print collateral audits through creative design, production and fulfillment our clients have come to rely on us as their expert in the industry.